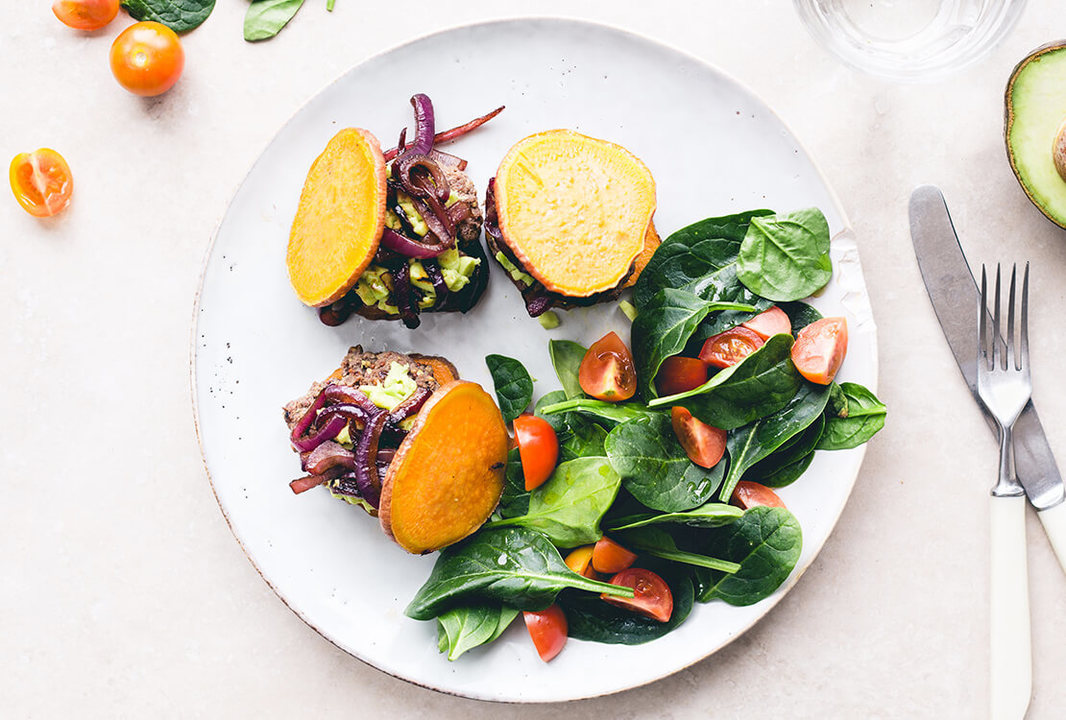 For our juicy mini burgers we've swapped a regular bread bun for sweet potato, to give you a vitamin C & beta-carotene boost.
Ingredients
120g cherry tomatoes
1/2 lime
1 avocado
1 red onion
1 tbsp balsamic vinegar
1 tbsp oil
2 garlic cloves
2 x 150g beef mince
300g sweet potato
40g baby spinach
Method
Preheat the oven to 200°C / gas mark 6. Leave the skin on the sweet potato and cut widthways into 12 thin slices (you will need 6 slices per person). Thinly slice the onion and crush or finely chop the garlic.
Place the sweet potato on a baking tray and lay out the slices, drizzle with 1 tsp oil. Place in the oven for 20-25 mins, turning halfway through.
Meanwhile in a bowl, combine the beef mince, garlic and a pinch of sea salt and black pepper. Then form into 6 burgers.
Heat a large pan with 1 tsp oil over a medium-high heat, add the beef burgers and cook for 5 mins each side or until cooked through.
Meanwhile heat 1 tsp oil in a separate frying pan and cook the onion for 7 mins until softened and turning golden.
Peel and de-stone the avocado. In a small bowl, mash the avocado and the juice from half of the lime, add a pinch of sea salt and black pepper. Slice the cherry tomatoes into quarters, add to a separate bowl with the baby spinach and the balsamic vinegar and stir well.
Assemble each slider on two warm plates; top a sweet potato slice with a burger, avocado, onions and then add another sweet potato slice. Serve alongside the baby spinach and cherry tomato salad.
Taken from our partner Mindful Chef
You may also like