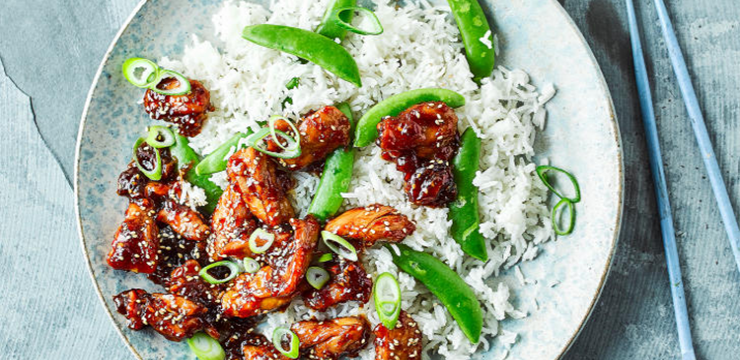 Teriyaki is a salty-sweet Japanese sauce that adds fabulous savouriness to dishes. Paired it with tender British chicken thighs, fragrant basmati rice and crunchy sugar snap peas for an Asian-inspired plateful that's sure to go down a treat. Teriyaki? Yes peas!
(Dairy-free.)
Ingredients
125g butter, softened at room temperature
½ -1 tsp cayenne pepper
Zest and juice of 1 lime
½ tsp of mild chilli flakes
Method
Whisk together the butter, cayene, half the lime zest and a pinch of salt until fully combined. Cool in the fridge until firm but pliable.
Lay a sheet of clingfilm over a chopping board and sprinkle the chilli flakes and the remaining lime zest over half of one side of the clingfilm.
Remove the butter from the fridge and roughly shape into a sausage. Wrap in a fresh piece of clingfilm and roll on a work surface to shape into an even cylinder.
When you're happy with the shape, remove from the clingfilm and place on the edge of the chilli lime film. Roll the butter in the clingfilm getting an layer of the chilli and lime over it at the same time.
Cool in the fridge until ready to serve, then serve sliced over charred corn with a squeeze of lime juice.
Provided by our partners Gousto
You may also like